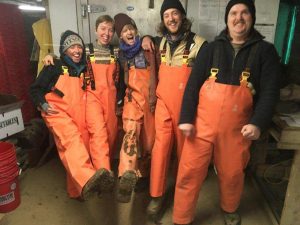 Come farm with us! We have one position available currently for an apprentice or field crew.
Common Thread CSA is a 17-acre vegetable farm in Central New York that grows mixed vegetables using sustainable methods for on farm and delivered CSA, and some wholesale. Operating at this scale, we use a mix of hand and mechanized techniques, offering a wide variety of skills for farmers to learn and hone. We are a family farm with two farmer/owners with over 20 years of experience growing vegetables for CSA. We enjoy sharing what we know with– and learning from– our farm crew. Our scale allows motivated employees to learn and practice a wide variety of skills. We prioritize soil health, using a permanent raised bed tillage system and planting about half the farm to cover crops. We work to make our food accessible to all by running a sponsored share program and donating food to local soup kitchens and food pantries. We work to build a positive and safe workplace and welcome diversity of race, sex, sexual orientation, gender, age, family status and religion. We take COVID seriously on the farm and take precautions to keep our staff and members safe.
Apprentice Positions
Come learn with us!  We have mentored dozens of future farmers, farm educators, and community food advocates over the 20 years that we have been managing farms.  We love to farm with, learn from and share information with others who have also "caught the farming bug".  Farm apprenticeships are full time, full season (8-10 month) positions on the farm focused on learning a variety of skills necessary for running and managing a farm while working on the farm.  Apprentices are involved in all aspects of the farm for a full growing season including greenhouse work, transplanting, harvest, wash and pack, weed management, CSA distribution, tractor work, pest control, general farm maintenance and more.   We help farm apprentices build agriculture knowledge by setting up biweekly evening education sessions and field trips on topics such as soil management, cover cropping, business planning, weed identification, CSA management and more as well as setting up field trips to other farms in our region.  We pass on information about farmer education events going on in our county and region and make sure that interested apprentices have time off to attend community events that conflict with work time.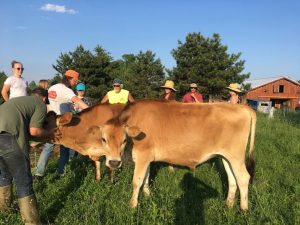 Previous experience with gardening, landscaping or farming is preferred.  We seek apprentices who already know that they love doing physical work outdoors and are curious to learn all aspects vegetable farming.  The scale of our farm creates a lot of opportunities for motivated apprentices to learn a wide variety of skills and we love to teach apprentices who are eager to learn.  We encourage apprentices who enjoy the farm work to return in positions of greater responsibility in future years.
Field Crew Positions
Field crew may be part or full time on the farm for the summer, the fall, the full season or year-round. Field crew members help with greenhouse, harvest, transplanting, packing, deliveries, and general field work. We look for positive team members who enjoy working outside; are detail oriented; enjoy the athletic challenge of fast paced physical labor; and find joy and meaning in growing healthy food for their local community.  Previous farming experience is helpful but not necessary to join the field crew although positive previous experiences doing physical labor outdoor is helpful to be more certain that it will be a good fit.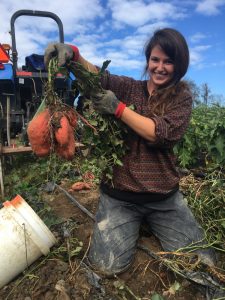 Crew members with previous mid-scale vegetable farming experience and/or who are able to commit to a full time schedule will be given more leadership and responsibilities and wages will start higher.  Being a member of the crew is a good option for those who enjoy working on the farm but don't have the time or interest to do a farm apprenticeship or management position.
Farm Management Positions
We seek farm team members who have at least two seasons of prior experience on vegetable farm(s) similar to our scale, have good communication skills, enjoy working as part of a team, and are excited to help produce healthy veggies for local communities.  While the job descriptions below lay out primary responsibilities, all positions require flexibility in responding to the needs of the farm and all on farm management positions will provide crew leadership for other tasks as time allows.  Applicants who are interested in these positions, but who have less than the required experience are encouraged to start as farm apprentices as a stepping stone to a management position. If applicants have a good amount of experience but can't commit the time needed for a management position, they are encouraged to apply for field crew where they can have a more flexible schedule but we will consider their prior experience when setting their pay rate and assignments.  Farm management positions include Harvest Manager, Assistant Harvest Manager, Wash and Pack Manager, Greenhouse Manager, Assistant Office Manager, and Assistant Field Manager.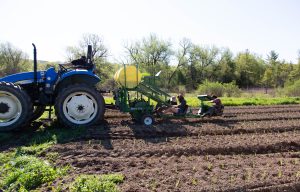 My three seasons working with Wendy and Asher and the Common Thread crew were full of learning, skill-building, and satisfying work. Wendy and Asher's support and education of their crew is full-hearted and thorough. I came with previous smaller-scale growing experience and an interest in learning more tractor work. They trained me in greenhouse management and tractor cultivation in addition to a large selection of jobs on the farm. They also shared their years of training and experience very generously though education sessions and field trips they organized to take place after work.
As managers, Wendy and Asher value communication, efficiency, and the well-being of the farm organisms (including the crew members and themselves). When I asked for a short check-in, they always met my request for kindly and helpfully even when the schedule was hectic. The stress of farming is real, but they continued to show up wholly even when the going was tough. Additionally, they navigated the pandemic with lots of communication about crew safety and made significant adaptations to ensure the safety of the farm's wider community.
Though the crew changed season-to-season, I found that each year brought new kind and interesting people who cared about ecological stewardship, food, and thoughtful relationships. The CSA members are also a sweet community that are very supportive and grateful during CSA pick-up. Overall, I believe that Common Thread can be a great place to work to learn sustainable vegetable farming and to connect with people who are striving towards the big goals of ecological care and a just food system.
I had the pleasure of working for Common Thread as a Farm Intern from May- Early Sept in 2018. While working at Common Thread what you can expect is meaningful work, an amazing connection with sustainable farming, supplying wholesome produce to the community and a wonderful and dedicated educational experience.  Wendy and Asher take the time to show everyone the in's and outs of their farming lives by guiding you on efficient farming practices and techniques and also offer weekly education sessions on a large array of topics. From neighboring farm visits, weed walks, crop planning, finding suitable farming land and medicinal herbs. They truly want everyone on the farm to constantly learn and grow while working there. I can honestly say this was one of the best experiences of my life and I will never ever forget what they taught me,  the friendships that were made and how they cultivated my future in continuing my farming passion back in NJ!
Working at Common Thread CSA with Wendy and Asher created a standard of hard work and farming excellence for me. Their openness to teaching and new ideas, their incredible ability to problem solve and attend to all of the details, and their extreme dedication and engagement in the community have influenced me and given me a strong foundation to continue to grow and share food in a sustainable and conscientious manner. There is a lot of respect for this farm in the community, and that was clear to me during my interactions with CSA members and devoted farm stand customers. Wendy and Asher's hard work and purposefulness will serve as an inspiration for me in my future endeavors.
My name is Alexis. I had the pleasure of being an apprentice at Common Thread for two seasons starting in 2019. The apprenticeship is an amazing opportunity for anyone interested in organic CSA farming. Wendy and Asher are great educators, willing to share insights into every aspect of what it takes to sustain a viable local food system. I learned about soil science, crop rotation, infrastructure, machine maintenance, and financial planning all while experiencing the joy of being outside, with my hands in the dirt, watching the seeds I planted grow into beautiful nourishing vegetables. It is a physically demanding job that requires you to think and move efficiently. However, the pressure of the pace is eased by the culture that Wendy, Asher, and their longtime harvest manager Packard have created. As much as they taught and directed, they also asked for input and listened attentively to any concerns or critiques. For me, Common Thread was at heart a place of friendship and laughter, where everyone was united in the goal of building a healthier community. As much as the environment and labor were demanding, so too were they incredibly fulfilling. I'll always be grateful for the time I spent there.
The two seasons I worked with Asher and Wendy, first as an intern then an assistant manager, were incalculably valuable to my farming education. They are extremely smart and communicative growers, and they were supportive to my learning objectives as well. After two years with them I felt very ready to manage my own farm. They're amazing. I can't recommend them enough.
My two seasons working with Asher and Wendy were critical in my development as a farmer and manager. I came in with a list of skills I wanted to learn, and they were intentional about helping me meet my goals. Apprentices were part of the day to day planning which gave me a solid base in priority setting, as well as crew and task management. I had the opportunity to do a lot of tractor work, cover cropping, and mange the greenhouse. I had increased responsibilities my second season and was able to build on my skills and understanding of farm systems from one year to the next. Asher and Wendy have continued to mentor me as I moved into a management role on a different farm — I literally do not know where I would be without them!
Wendy and Asher are patient, gracious, and always willing to help young farmers learn new skills. I learned a great amount about farming under their supervision, and always felt like I was contributing to worthwhile work because they were along side me and gave the task context. Their passion and love for farming is truly contagious and their demeanor is peaceful and focused. I was inspired to work with this well-coordinated team that has great communication and doesn't mind get their hands dirty. Ask plenty of questions because there are years of experience and knowledge to tap into.
Farming with Wendy and Asher for a full season was one of the most educational experiences of my life. Even at the height of the season, they make sure to find time for your questions and give thorough explanations for the different work to be done on the farm. They are two incredible and sincere farmers, who willingly impart their wealths of knowledges and years of experience on subjects that range from CSA business planning, to medicinal herbs, cover crop management, and hundreds more!
After completing a two-year college program in Fruit and Vegetable Crops, I came to Common Thread Farm to apprentice under Wendy and Asher, and I'm certain that I learned far more at this farm than in the classroom! Asher and Wendy have put careful thought and decades of experience into creating a farm and a yearly group of workers, both apprentices and others, who are interdependent—the farm needing its workers for completion of daily labor during the growing season, and the workers needing the farm to help teach them as they learn to tend land, care for plants, and feed people. Priorities are balanced in the way the farm is run: profit and efficiency are worked for so that the farm can continue to thrive and support those who care for it, while excess food is donated to where there is local need, and education is given generously to the next generation of farmers. While I was at Common Thread, I received a real boost from the atmosphere and opportunities there. I was able to make a fair wage and live locally while learning on the job, and I built friendships with fellow apprentices as we drove out to visit other farms on educational field trips. Now, as I have taken on more managerial farm roles elsewhere since my apprenticeship, I carry with me memories of Wendy and Asher's management style and kind manner of relating to people. I also remember Asher's insistence on workers knowing the exact names of the tools they used!
Working at Common Thread CSA with Wendy and Asher created a standard of hard work and farming excellence for me. Their openness to teaching and new ideas, their incredible ability to problem solve and attend to all of the details, and their extreme dedication and engagement in the community have influenced me and given me a strong foundation to continue to grow and share food in a sustainable and conscientious manner. There is a lot of respect for this farm in the community, and that was clear to me during my interactions with CSA members and devoted farm stand customers. Wendy and Asher's hard work and purposefulness will serve as an inspiration for me in my future endeavors.